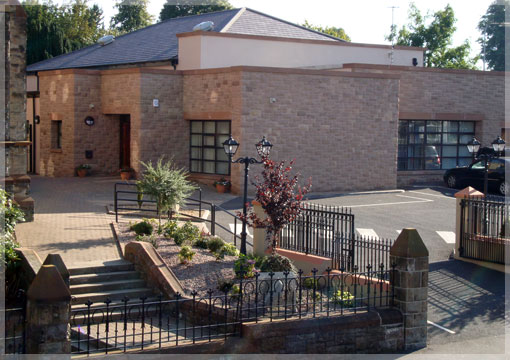 St. Patrick's Pastroral Centre was built primarily for social activities related to the churches that make up the Parish of Lisburn. The facilities at the Centre are not however restricted to parish activities and it is part of the centre's policy to reach out to the wider community.
Since the Centre was officially opened in November 2009, it continues to be successfully used for an increasingly wide range of functions and now plays an important part in the social life of the parish and Lisburn.
The hall is available for Christenings, birthdays, family celebrations, weddings, wedding breakfasts and funerals at very competitive rates.
Activities
MOTHERS & TODDLERS
The Mothers and Toddlers Club will be back, starting on 18 September.
MUMS AND TOTS MUSIC APPRECIATION
Monday 10.30-11.30am
£3.50 per mum and tot including tea/coffee held in St Patrick's Pastoral Centre. contact Samantha 07741273968
Music Tuition
Music Tuition in St. Patrick's Pastoral Centre
Samantha McMillan, DIPLCM BMus
Flute, Singing & Piano. 5 lessons £60.
Mondays & Thursdays. Other nights to open soon.
Contact 07741273968
Roller Blade Disco
Attention youths of the parish up to 15 years-of-age! Would you be interested in coming along to a Roller Blade Disco? Contact the Pastoral Centre and let us know.
Pat Catney
Scripture Reflections
Scripture Reflections on Sunday Readings
Tuesday evening at 7.30pm in St. Patrick's Pastoral Centre.
All welcome.
Slimming World
Slimming world classes. Catherine 07921 820293.
Slimming World
Tuesday evenings at 4.30pm and 6.30pm in Pastoral Centre.
Telephone Louise: 07828 783 491
SPECIAL CHILDREN'S CEILI CLASSES
The Parish want to promote a regular Ceili for children. There are now special classes available on Tuesday 4.00-5.30pm in St Patrick's Pastoral Centre to facilitate this. Tuition in basic steps for Solo and Team Dances. No uniform required-enjoy the exercise-make new friends.
Further enquiries: Eileen Depo ADCRG Tel: 92 607177/07730925365
ADULT CEILI CLASS
Classes continue every Tuesday at 8.00pm in St. Patrick's Pastoral Centre. New Members welcome.
Youth Club
The Youth Club has now resumed on Fridays.
Dates for your diary
LISBURN – A History of the Catholic Community of the Parish of Blaris
This is a history of the parish and indeed of Lisburn that has never before been documented. Written in diary form it chronicles political and other events over four-hundred plus years and how they affected the Catholic community of Lisburn.
Copies are available at the Pastoral Centre at the reduced price of £10 for parishioners or at Waterstones, Bow Street, Lisburn. It will also be available at Amazon.co.uk.
Bookings – Pastoral Centre
Bookings/availability of pastoral centre, etc. please contact
Patrick Catney, Centre Manager on 028 9260 7110. Thank you.
KNIT & NATTER
For a good social get together on Tuesdays 10:00 am – 12:00. Contact Del 07752554480
Insanity Workout
Insanity is a revolutionary, cardio based, total body conditioning fitness class, suitable for all fitness abilities. Every morning (except Sat & Sun) from 6:30 am to 8:30 am in St. Patrick's Pastoral Centre. Contact Glen McCready 07590196157
Roller Blade Disco
Attention youths of the parish up to 15 years-of-age! Would you be interested in coming along to a Roller Blade Disco? Contact the Pastoral Centre and let us know.
Pat Catney
Ceilidh Dancing
Join in the popular ceilidh dance sessions every Tuesday night from 8:30 to 10:30. Relax later over tea/coffee.
Children's session 4″00 – 5:30 pm on Tuesdays.
FOREVER YOUNG
Every Thursday join new friends from 11:30 am – 13:00. Everyone most welcome. Contact June  07762335347 or Yvonne 07909960564
Now on Summer break. Back on 11 September 2014.
Irish Music Sessions
Back for another season – come along on Wednesday evenings 6:30 -8:30. Contact Seamus 07702022105 or Mary 07521280479. New musicians most welcome!
Irish Dancing
Come along on Wednesdays 4:30 pm -7:30 pm OR on Fridays from 4:00 pm – 5:30 pm. Beginners class every Wednesday from 4:30 to 5:30 pm
Contact Colleen  07877644126
Baby Sensory Classes
Every Wednesday from 10:00 am – 12:30 pm. These classes have been so popular  that we have divided the sessions.
Babies from 7 to 13 months class 10:00 am – 11:0 0am
Babies from birth to 6 months class 11:30 am – 12;30 pm
Toddlers on Saturdays 8:30 am- 1:00 pm
You and your baby will experience different sensory activities designed to support your baby's sensory development every week and you are welcome to join at any time. For further information contact Jayne 07749478473.