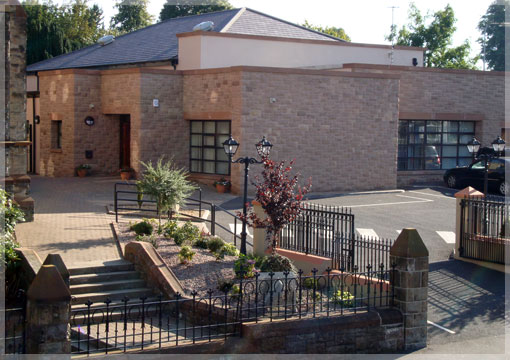 St. Patrick's Pastroral Centre was built primarily for social activities related to the churches that make up the Parish of Lisburn. The facilities at the Centre are not however restricted to parish activities and it is part of the centre's policy to reach out to the wider community.
Since the Centre was officially opened in November 2009, it continues to be successfully used for an increasingly wide range of functions and now plays an important part in the social life of the parish and Lisburn.
The hall is available for Christenings, birthdays, family celebrations, weddings, wedding breakfasts and funerals at very competitive rates.
Activities
Traditional Indian Dance
Fri 4 pm – 6 pm
For further information contact the Parish Office 028 9260 7110
Precious Life
Sat 11 pm – 12 pm Meets on the first Saturday of each month.
For further information contact Ann 028 9267 0152
McGuigan School of Irish Dancing
Fri 4 pm – 5.30 pm
Classes for girls and boys 4+. Learn to dance, keep fit, build confidence, become part of a team and make new friends all in a fun environment. Competitive and non-competitive dancers welcome. For further information contact Leanne 078 7968 3162 or Colleen 078 7764 4126
Quilters Class
Thurs 7 pm – 9.30 pm
Patchwork Pals, over the months we have made many quilts and items for friends and family, learning and sharing new techniques. Our members travel from far afield and always look forward to  a Thursday night catch up with everyone and their latest projects. For further information contact Rosaleen 075 2137 6977
Pilates
Wed 6.15 pm – 7.15 pm and 7.30 pm – 8.30 pm and 8.30 pm – 9.30 pm
For further information, contact Lorna on 077 5414 8388
Sequence Dancing
Wed 8 pm – 9 pm
All levels of experience welcome, dancing is a good way to meet new people. For further information contact Wesley 079 9978 5287
Traditional Music Classes
Wed from 7.30 pm (Sept – June)
Intermediate/advanced level.
Second Thurs of the month 8.pm to 11 pm (Sept – June)
Players of all levels and a variety of instruments.
Contact Marie McQuade 075 2128 0479
Irish Dance
Tues 4 pm – 5.30 pm
For further information, please ring 028 9260 7177
Knit & Natter
Tues 10 am – 12 pm
Come along to share your pastime with like minded people whether it be sewing, knitting, crochet or your particular pastime and enjoy and meet new people or old friends. For further information ring 028 9260 7110
Toddler Sense
Sat 10am – 2 pm
Award winning Toddler Sense multi-sensory activity classes and parties for children between 1-5 years. A place where structured play goes hand in hand with imagination, the freedom to explore and adventure! Classes each Saturday morning. For further details please go to www.toddlersense.com/bcl or contact Cathy at bcl@toddlersense.co.uk.
Dates for your diary
Abba Sensations.
In St Patrick's Pastoral Centre
Saturday 15 February 2020. 8 pm to late
Price £12. BYO
NI Blood Transfusion Service
Blood Donation Sessions are held in St Patrick's Pastoral Centre approximately every 6 weeks (Dates available from the Centre Office). Sessions run from 1.30 pm to 4 pm and 5.15 pm to 8 pm .
In order to maintain the vital supply of blood to our hospitals, the NI Blood Transfusion service needs the support not only of existing donors but also new donors.
LISBURN – A History of the Catholic Community of the Parish of Blaris
This is a history of the parish and indeed of Lisburn that has never before been documented. Written in diary form it chronicles political and other events over four-hundred plus years and how they affected the Catholic community of Lisburn.
Copies are available at the Pastoral Centre at the reduced price of £10 for parishioners or at Waterstones, Bow Street, Lisburn. It will also be available at Amazon.co.uk.
Bookings – Pastoral Centre
Bookings/availability of pastoral centre, etc. please contact
Damian French, Centre Manager on 028 9260 7110. Thank you.