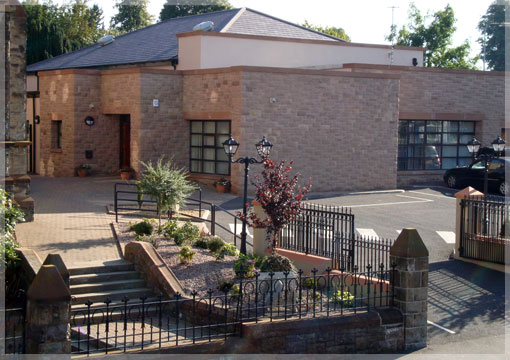 St. Patrick's Pastroral Centre was built primarily for social activities related to the churches that make up the Parish of Lisburn. The facilities at the Centre are not however restricted to parish activities and it is part of the centre's policy to reach out to the wider community.
Since the Centre was officially opened in November 2009, it continues to be successfully used for an increasingly wide range of functions and now plays an important part in the social life of the parish and Lisburn.
The hall is available for Christenings, birthdays, family celebrations, weddings, wedding breakfasts and funerals at very competitive rates.
Activities
Knitting Pals
We are a group of like minded ladies who enjoy knitting and crocheting, all things wool.
Anyone is more than welcome on a Tuesday morning 10am-12pm to join us for knit/chat and cuppa.
Donation £2.
Contact Rosaleen  07523419633.  Tina 07841655783.  Helen  07988778920.  Ann  07849360315
Old School Café
St. Patrick's Pastoral Centre
'Old School Café'
Is open with restrictions – Monday, Tuesday, Thursday & Friday, 10.00am-11.30am
Centre closed on Wednesdays for cleaning.
Baby Massage
Thursday 10.30 am to 11.30 am
For further information please ring 078 7981 0630
Deirdre's Introduction to Yoga
For details of classes available, please contact Deirdre on 079 0045 4312.
Forever Young
Thurs 11 am – 1 pm (Sept – Jun)
Forever young is a cross community event which provides friendship and companionship for ladies through a variety of activities including dance, exercise, lunches, outings, film days, bingo, bus trips and much more. For more information contact Sinead Fox 078 4697 1701
Eileen Depo School of Irish Dancing
Tues – Times as below
Junior Ceili at 4 pm
Adult Ceili at 8 pm to 9.30 pm
Come along, bring a friend, new members welcome
 For further details contact Eileen Depo T.C.R.G/ADCRG.
Tel: 028 9260 7177  Mob: 077 3092 5365
Drama Class
Sat 10 am – 11.30 am
For further information contact Kate Phillips 079 5516 7269
Precious Life
Sat 11 pm – 12 pm Meets on the first Saturday of each month.
For further information contact Ann 028 9267 0152
McGuigan School of Irish Dancing
Fri 4 pm – 5.30 pm
Classes for girls and boys 4+. Learn to dance, keep fit, build confidence, become part of a team and make new friends all in a fun environment. Competitive and non-competitive dancers welcome. For further information contact Leanne 078 7968 3162 or Colleen 078 7764 4126
Quilters Class
Thurs 7 pm – 9.30 pm
Patchwork Pals, over the months we have made many quilts and items for friends and family, learning and sharing new techniques. Our members travel from far afield and always look forward to  a Thursday night catch up with everyone and their latest projects. For further information contact Rosaleen 075 2137 6977
Dates for your diary
BINGO
BINGO every Sunday night in St. Patrick's Pastoral Centre. 7.30pm sharp.
Cost £10 – 10 page book + 2 flyers. £10 per line. £15 per house. Everyone welcome.
Covid 19 – Corona Virus
In line with Government guidance the following applies to all who attend St Patrick's Pastoral Centre with immediate effect:
Principles/advice:
Social distancing of 2 metres/6.5 feet must be observed
All physical contact must be avoided, including handshaking
Good hand hygiene must be observed at all times
A good respiratory regime is strongly encouraged i.e. catch coughs and sneezes in tissue and deposit the tissue immediately in bins
It is advised that people (Group leaders/assistants and group participants) with medical conditions and underlying health issues, people with compromised immune systems, pregnant women etc. and anyone at greater risk of a more serious illness if they are infected with corona virus should perhaps delay their attendance.
It is also advised that people feeling unwell or exhibiting symptoms should not visit the Pastoral Centre
The number of people entering the Centre will be limited at the discretion of Pastoral Centre Management to ensure social distancing conforms with current Government guidance
NI Blood Transfusion Service
Blood Donation Sessions are held in St Patrick's Pastoral Centre approximately every 6 weeks (Dates available from the Centre Office). Sessions run from 1.30 pm to 4 pm and 5.15 pm to 8 pm .
In order to maintain the vital supply of blood to our hospitals, the NI Blood Transfusion service needs the support not only of existing donors but also new donors.
LISBURN – A History of the Catholic Community of the Parish of Blaris
This is a history of the parish and indeed of Lisburn that has never before been documented. Written in diary form it chronicles political and other events over four-hundred plus years and how they affected the Catholic community of Lisburn.
Copies are available at the Pastoral Centre at the reduced price of £10 for parishioners or at Waterstones, Bow Street, Lisburn. It will also be available at Amazon.co.uk.
Bookings – Pastoral Centre
Bookings/availability of pastoral centre, etc. please contact
Damian French, Centre Manager on 028 9260 7110. Thank you.