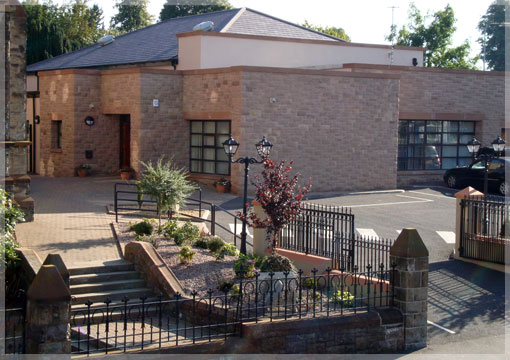 St. Patrick's Pastroral Centre was built primarily for social activities related to the churches that make up the Parish of Lisburn. The facilities at the Centre are not however restricted to parish activities and it is part of the centre's policy to reach out to the wider community.
Since the Centre was officially opened in November 2009, it continues to be successfully used for an increasingly wide range of functions and now plays an important part in the social life of the parish and Lisburn.
The hall is available for Christenings, birthdays, family celebrations, weddings, wedding breakfasts and funerals at very competitive rates.
Activities
ST. PATRICK'S YOUTH CLUB
Registration will be on Friday 1st September from 6pm-8pm in the Pastoral Centre for all new and old members. Age 7 – 11 years. All children must be supervised by their parents on that evening.
Cost of membership: £15 single; £25 family for the year.
The Youth Club will then commence on Friday 8th September 6.00 – 8.45pm. £2.00 nightly fee.
YOGA CLASSES
Yoga Classes – Starting back Monday 4th September
Morning class at 10.30am Evening class at 6.15 pm
£7 per class – all levels welcome
Contact Grainne 07712435513
Splatmessy
Thurs – 09.30 to 10.30
For further information contact Gail on 075 1202 6990
Sonal Sportz
Sun – 9.30 to 12.30
For further information contact Paul on 077 2573 6114
Hip Hop Dance
Sat – 11.00 to 12.00
For further information contact Sarah Reilly on 078 3517 9061
Moo Music
Fri – 10.00 to 12.00
For further information contact Sonia on 077 9321 0775
Que Drama
Tue 18.00 to 19.00
For further information contact Sherryn on 077 9548 8843
Irish Dancing for Beginners
Mon – 16.30 to 17.30
For further information contact Holly Breslin on 079 5107 4451
Taekwondo
Tues – 15.30 to 18.30
For further details contact Leo Maguire on 078 9119 1494
Donna – Yoga
Tues evenings – 17.30 to 19.00.
For  further details contact Donna on 078 2147 8823
Dates for your diary
Pascal Brennan in Concert
Performing the greatest hits of Joe Dolan Saturday 11th November 2023.
Doors open 8pm. Tickets £12. BYO
SUNDAY NIGHT BINGO
SUNDAY NIGHT BINGO continues every Sunday at 7.30pm in Parish Centre. A fun night out for all ages.
NI Blood Transfusion Service
Blood Donation Sessions are held in St Patrick's Pastoral Centre approximately every 6 weeks (Dates available from the Centre Office). Sessions run from 1.30 pm to 4 pm and 5.15 pm to 8 pm .
In order to maintain the vital supply of blood to our hospitals, the NI Blood Transfusion service needs the support not only of existing donors but also new donors.
LISBURN – A History of the Catholic Community of the Parish of Blaris
This is a history of the parish and indeed of Lisburn that has never before been documented. Written in diary form it chronicles political and other events over four-hundred plus years and how they affected the Catholic community of Lisburn.
Copies are available at the Pastoral Centre at the reduced price of £10 for parishioners or at Waterstones, Bow Street, Lisburn. It will also be available at Amazon.co.uk.
Bookings – Pastoral Centre
Bookings/availability of pastoral centre, etc. please contact
Damian French, Centre Manager on 028 9260 7110. Thank you.