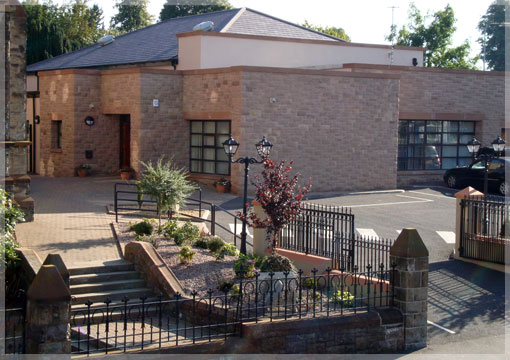 St. Patrick's Pastroral Centre was built primarily for social activities related to the churches that make up the Parish of Lisburn. The facilities at the Centre are not however restricted to parish activities and it is part of the centre's policy to reach out to the wider community.
Since the Centre was officially opened in November 2009, it continues to be successfully used for an increasingly wide range of functions and now plays an important part in the social life of the parish and Lisburn.
The hall is available for Christenings, birthdays, family celebrations, weddings, wedding breakfasts and funerals at very competitive rates.
Activities
Sequence Dancing
Wed 8 pm – 9 pm
All levels of experience welcome, dancing is a good way to meet new people. For further information contact Wesley 079 9978 5287
Traditional Music Classes
Wed from 7.30 pm (Sept – June)
Intermediate/advanced level.
Second Thurs of the month 8.pm to 11 pm (Sept – June)
Players of all levels and a variety of instruments.
Contact Marie McQuade 075 2128 0479
Knit & Natter
Tues 10 am – 12 pm
Come along to share your pastime with like minded people whether it be sewing, knitting, crochet or your particular pastime and enjoy and meet new people or old friends. For further information ring 028 9260 7110
Toddler Sense
Sat 10am – 2 pm
Award winning Toddler Sense multi-sensory activity classes and parties for children between 1-5 years. A place where structured play goes hand in hand with imagination, the freedom to explore and adventure! Classes each Saturday morning. For further details please go to www.toddlersense.com/bcl or contact Cathy at bcl@toddlersense.co.uk.
St Joseph's Indoor Short Mat Bowling Club
Mon 8 pm – 10 pm
The Club is open to new members from 10 years of age to senior citizens. Coaching can be arranged for those interested. For more information contact Con Mullholland on 077 8757 3923.
Blaris Players
Mon 7.30 pm – 9 pm
After the success of our first play "Shady Pines" we would like to invite anyone who is interested in all aspects of drama, i.e. acting, set design, back stage, front of house and make-up. To find out more ring Maura 078 7986 7733.
APPI Modified Pilate Classes
Tuesday evenings 7-8 pm and 8-9 pm
Taught by Chartered physiotherapist and Certified Pilates Instructor with APPI.
For all levels and ablities. Block of 6 one hour classes £42
For more information and to book your place contact:
Phone/text 07905542490 – email: pilates_class@yahoo.com
Scripture Reflections
Scripture Reflections on Sunday Readings
Tuesday evening at 7.30pm – 8.30pm in St. Patrick's Pastoral Centre.
Reflect on the Gospel and readings for the week ahead.
All welcome, for further information contact Maria on 028 9266 0206.
Adult & Toddler Group
Tues 10 am – 12.30 pm (Sept – Jun)
All welcome.
Bingo
Parish Family Fun!
Sunday evenings 7.30pm sharp – Jackpot varies.
Dates for your diary
BINGO
BINGO every Sunday night in St. Patrick's Pastoral Centre. 7.30pm sharp.
Cost £10 – 10 page book + 2 flyers. £10 per line. £15 per house. Everyone welcome.
Covid 19 – Corona Virus
In line with Government guidance the following applies to all who attend St Patrick's Pastoral Centre with immediate effect:
Principles/advice:
Social distancing of 2 metres/6.5 feet must be observed
All physical contact must be avoided, including handshaking
Good hand hygiene must be observed at all times
A good respiratory regime is strongly encouraged i.e. catch coughs and sneezes in tissue and deposit the tissue immediately in bins
It is advised that people (Group leaders/assistants and group participants) with medical conditions and underlying health issues, people with compromised immune systems, pregnant women etc. and anyone at greater risk of a more serious illness if they are infected with corona virus should perhaps delay their attendance.
It is also advised that people feeling unwell or exhibiting symptoms should not visit the Pastoral Centre
The number of people entering the Centre will be limited at the discretion of Pastoral Centre Management to ensure social distancing conforms with current Government guidance
NI Blood Transfusion Service
Blood Donation Sessions are held in St Patrick's Pastoral Centre approximately every 6 weeks (Dates available from the Centre Office). Sessions run from 1.30 pm to 4 pm and 5.15 pm to 8 pm .
In order to maintain the vital supply of blood to our hospitals, the NI Blood Transfusion service needs the support not only of existing donors but also new donors.
LISBURN – A History of the Catholic Community of the Parish of Blaris
This is a history of the parish and indeed of Lisburn that has never before been documented. Written in diary form it chronicles political and other events over four-hundred plus years and how they affected the Catholic community of Lisburn.
Copies are available at the Pastoral Centre at the reduced price of £10 for parishioners or at Waterstones, Bow Street, Lisburn. It will also be available at Amazon.co.uk.
Bookings – Pastoral Centre
Bookings/availability of pastoral centre, etc. please contact
Damian French, Centre Manager on 028 9260 7110. Thank you.