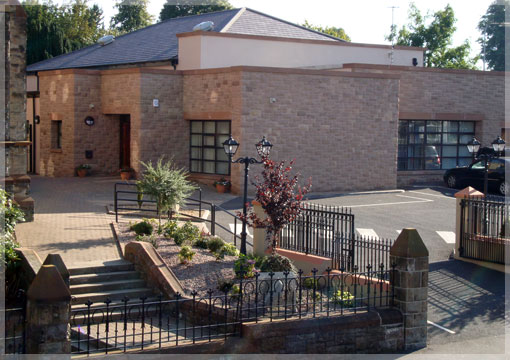 St. Patrick's Pastroral Centre was built primarily for social activities related to the churches that make up the Parish of Lisburn. The facilities at the Centre are not however restricted to parish activities and it is part of the centre's policy to reach out to the wider community.
Since the Centre was officially opened in November 2009, it continues to be successfully used for an increasingly wide range of functions and now plays an important part in the social life of the parish and Lisburn.
The hall is available for Christenings, birthdays, family celebrations, weddings, wedding breakfasts and funerals at very competitive rates.
Activities
English Beginners Classes
Monday 11 am
Please contact Angelina on 075 1151 4826 for further details
Portuguese Tuition Classes
Monday 7.30 pm
Please contact Angelina on 075 1151 4826 for further details
Gladiators Fencing Club
Thurs 6 pm – 8 pm
For details contact Alison 079 1702 8074
Forever Young
Thurs 11 am – 1 pm (Sept – Jun)
Forever young is a cross community event which provides friendship and companionship for ladies through a variety of activities including dance, exercise, lunches, outings, film days, bingo, bus trips and much more. For more information contact Sinead Fox 078 4697 1701
Eileen Depo School of Irish Dancing
Tues – Times as below
Junior Ceili at 4 pm
Adult Ceili at 8 pm to 9.30 pm
Come along, bring a friend, new members welcome
 For further details contact Eileen Depo T.C.R.G/ADCRG.
Tel: 028 9260 7177  Mob: 077 3092 5365
Drama Class
Sat 10 am – 11.30 am
For further information contact Kate Phillips 079 5516 7269
Traditional Indian Dance
Fri 4 pm – 6 pm
For further information contact the Parish Office 028 9260 7110
Precious Life
Sat 11 pm – 12 pm Meets on the first Saturday of each month.
For further information contact Ann 028 9267 0152
McGuigan School of Irish Dancing
Fri 4 pm – 5.30 pm
Classes for girls and boys 4+. Learn to dance, keep fit, build confidence, become part of a team and make new friends all in a fun environment. Competitive and non-competitive dancers welcome. For further information contact Leanne 078 7968 3162 or Colleen 078 7764 4126
Splatmezy
Fri 10 am – 11 am
 Looking for something new and exciting? Splat Messy Play could be the answer. Our classes are designed for 6 month to 4 year old's. We delight in letting the kittle ones explore different textures and materials with a hands on approach as the best form of learning is through play. To book contact Claire on 074 6857 6901 or Claire@splatmessyplay.co.uk
Dates for your diary
Coffee Morning
Coffee Morning (in aid of Stanton Healthcare, Belfast)
Friday 16th November at 10.30am in St Patrick's Pastoral Centre. All welcome.
Also selection of nearly new toys for sale. All proceeds to help provide emotional and financial support to women in crisis pregnancies.
St Vincent de Paul
Christmas Card Packs are available in the church porches and Pastoral Centre. Pack of 10 cards – £3.50. Your local SVP thank you for continued support.
NI Blood Transfusion Service
Blood Donation Sessions are held in St Patrick's Pastoral Centre approximately every 6 weeks (Dates available from the Centre Office). Sessions run from 1.30 pm to 4 pm and 5.15 pm to 8 pm .
In order to maintain the vital supply of blood to our hospitals, the NI Blood Transfusion service needs the support not only of existing donors but also new donors.
LISBURN – A History of the Catholic Community of the Parish of Blaris
This is a history of the parish and indeed of Lisburn that has never before been documented. Written in diary form it chronicles political and other events over four-hundred plus years and how they affected the Catholic community of Lisburn.
Copies are available at the Pastoral Centre at the reduced price of £10 for parishioners or at Waterstones, Bow Street, Lisburn. It will also be available at Amazon.co.uk.
Bookings – Pastoral Centre
Bookings/availability of pastoral centre, etc. please contact
Damian French, Centre Manager on 028 9260 7110. Thank you.