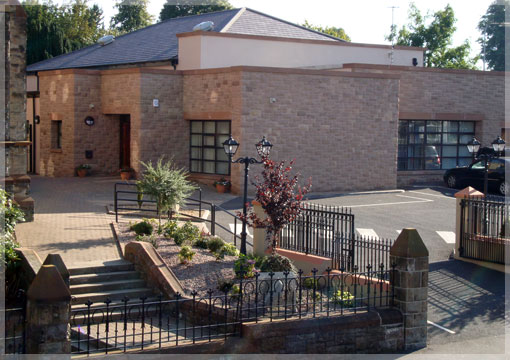 St. Patrick's Pastroral Centre was built primarily for social activities related to the churches that make up the Parish of Lisburn. The facilities at the Centre are not however restricted to parish activities and it is part of the centre's policy to reach out to the wider community.
Since the Centre was officially opened in November 2009, it continues to be successfully used for an increasingly wide range of functions and now plays an important part in the social life of the parish and Lisburn.
The hall is available for Christenings, birthdays, family celebrations, weddings, wedding breakfasts and funerals at very competitive rates.
Activities
FOREVER YOUNG
Every Thursday join new friends from 11:30 am – 13:00. Everyone most welcome. Contact June  07762335347 or Yvonne 07909960564
Now on Summer break. Back on 11 September 2014.
LADIES YOGA
Yoga for ladies – Mondays 10:30 am – 12:00pm and on Thursdays 7:00pm – 8:30 pm.
NEW Classes are now available on Monday mornings 10:30 am – 12:00 and Thursdays 7:00pm – 8:30 pm. For a fantastic programme at only £5 per session contact Grainne at 0771 243 5513.
Tone your body and calm your mind. All levels welcome.
On summer break. Will resume on 1st September 2014
9th Antrim Scouts
Tuesday Nights from 6:30pm St. Patrick's Academy, Ballinderry Road, Lisburn
Open to Children from all nationalities and backgrounds.
Beavers Aged 6 to 8 recruiting now
Cubs Aged 9 to 11 recruiting now
Scouts Aged 12 to 15 recruiting for September 2012 (Meeting night and meeting time to be agreed with new Leaders)
Scout section will re-open in September 2012 subject to Adult Leaders being recruited. (Full training supplied free of charge) All boys and girls welcome.
Adult volunteers needed – For details phone Gary (after 6pm) 07899 666 092 or Marion 07740 943 224
Have Fun. Meet Other Young People. Arts and Crafts, Games, Outdoor Activities, Camping, Camping Skills, Hiking, Cross Community – And much more.
9th Antrim Scouts are members of Scouting Ireland and are subject to and bound by Scouting Irelands Code of Practise. Further Enquiries can be made to the above telephone numbers or The Scout Foundation Northern Ireland, Telephone 028 9266 7696. Monday to Friday 9.00am to 1.00pm.
ADULT & TODDLER GROUP
ST. PATRICK'S ADULT & TODDLER GROUP in St. Patrick's Pastoral Centre, Tuesdays from 10am-12 noon. Everyone welcome.
For enquiries please contact Shannon on 07860 788 852
Baby Sensory Classes
Every Wednesday from 10:00 am – 12:30 pm. These classes have been so popular  that we have divided the sessions.
Babies from 7 to 13 months class 10:00 am – 11:0 0am
Babies from birth to 6 months class 11:30 am – 12;30 pm
Toddlers on Saturdays 8:30 am- 1:00 pm
You and your baby will experience different sensory activities designed to support your baby's sensory development every week and you are welcome to join at any time. For further information contact Jayne 07749478473.
Beginner's Irish Class
Beginner's Irish class starting back on Wednesday 14th January 2015, in Saint Patrick's Pastoral Centre at 7.00pm. Price: £15 every four weeks (paid in advance) Contact Heilín on 07835170863 for more info.   NEWCOMERS WELCOME
BINGO
Bingo in main hall.
Bingo
Parish Family Fun!
BINGO
Sunday evenings 7.30pm sharp – Jackpot £500.
Blaris Players
Blaris Players started in Summer 2015. Since then we produced and directed our first play "Shady Pines".  We received great reviews about these performances.  We are now starting to read for our next Play and would like to invite anyone who is interested in all aspects of a Drama i.e. acting, set design, back stage, front of house & make-up. Not only is this a cross community project but it is also a social outlet, so do come along on a Monday evening at 7.30pm, St Patrick's Pastoral Centre, Chapel Hill, Lisburn.  Everyone welcome.  To find out more about us please ring Lorraine on 07713325460.
Ceili Classes
SPECIAL CHILDRENS' CEILI CLASSES
The Parish want to promote a regular Ceili for children. There are now special classes available on Tuesdays 4.00-5.30pm in St. Patrick's Pastoral Centre to facilitate this. Tuition in basic steps for Solo and Team Dances. No uniform required-enjoy the exercise-make new friends. Further enquiries: Eileen Depo ADCRG Tel: 028 92 607177/07730925365
ADULT CEILI CLASS
Classes continue every Tuesday at 8.30pm in St. Patrick's Pastoral Centre. New Members welcome.
ALL ABOVE CLASSES RESUME TUESDAY 9TH SEPTEMBER 2014
Eileen Depo ZCRG ADCRG.
Dates for your diary
Two Sides of Elvis
Jim 'THE KING' Brown Aka Elvis, Saturday 14th October.
Doors open 8 pm.  Tickets £13 availble from Pastoral Centre (028 92 607110)
"Two Sides of Elvis".  1st half of show features a selection of Gospel Hits.
DONATIONS – CALLING ALL BAKERS
Please help us to raise much needed funds in aid of Macmillan Cancer Support by donating buns, cakes or traybakes.
All cake donations please to the Pastoral Centre on Saturday 23rd September from 3.30pm to 4.30pm
To book a table or for further information please phone the Pastoral Centre from 9.30am to 1. 00pm, Monday to Friday on 028 92 607110
Cuppa & Cake: Craft Fair
Sunday 24th September 9.00am to 2.00pm
Cuppa & Cake: Craft Fair, Pre-Loved Clothing, Cake Sale, Raffle
Tables: £10 per Table
First Come. First Served
LISBURN – A History of the Catholic Community of the Parish of Blaris
This is a history of the parish and indeed of Lisburn that has never before been documented. Written in diary form it chronicles political and other events over four-hundred plus years and how they affected the Catholic community of Lisburn.
Copies are available at the Pastoral Centre at the reduced price of £10 for parishioners or at Waterstones, Bow Street, Lisburn. It will also be available at Amazon.co.uk.
Bookings – Pastoral Centre
Bookings/availability of pastoral centre, etc. please contact
Patrick Catney, Centre Manager on 028 9260 7110. Thank you.
KNIT & NATTER
For a good social get together on Tuesdays 10:00 am – 12:00. Contact Del 07752554480
Insanity Workout
Insanity is a revolutionary, cardio based, total body conditioning fitness class, suitable for all fitness abilities. Every morning (except Sat & Sun) from 6:30 am to 8:30 am in St. Patrick's Pastoral Centre. Contact Glen McCready 07590196157
Roller Blade Disco
Attention youths of the parish up to 15 years-of-age! Would you be interested in coming along to a Roller Blade Disco? Contact the Pastoral Centre and let us know.
Pat Catney
Ceilidh Dancing
Join in the popular ceilidh dance sessions every Tuesday night from 8:30 to 10:30. Relax later over tea/coffee.
Children's session 4″00 – 5:30 pm on Tuesdays.
FOREVER YOUNG
Every Thursday join new friends from 11:30 am – 13:00. Everyone most welcome. Contact June  07762335347 or Yvonne 07909960564
Now on Summer break. Back on 11 September 2014.