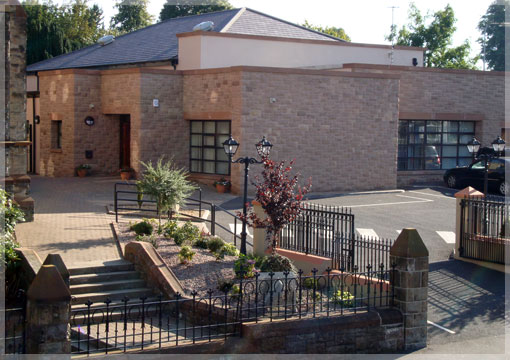 St. Patrick's Pastroral Centre was built primarily for social activities related to the churches that make up the Parish of Lisburn. The facilities at the Centre are not however restricted to parish activities and it is part of the centre's policy to reach out to the wider community.
Since the Centre was officially opened in November 2009, it continues to be successfully used for an increasingly wide range of functions and now plays an important part in the social life of the parish and Lisburn.
The hall is available for Christenings, birthdays, family celebrations, weddings, wedding breakfasts and funerals at very competitive rates.
Activities
Modified Pilates Classes
MODIFIED PILATES CLASSES COMMENCING TUESDAY 7th JANUARY 7-8pm and 8-9PM
Modified Pilates Classes Commencing In The Pastoral Centre On Tuesday 7th January 8-9pm.
Taught by Chartered Physiotherapist and Certified Modified Pilates instructor with APPI. For all levels and abilities.  Block of 6, 1 hour classes £44.  For more information and to book your place contact : Phone/text 07905542490 email  pilates_class@yahoo.com
Lunchtime Yoga
Wednesday 12 noon to 1 pm
For further information pleases contact Asha on 078 4093 1228
Baby Massage
Thursday 10.30 am to 11.30 am
For further information please ring 078 7981 0630
Mindfulness and Emotional Well-Being
Wednesday 2pm – 4pm at St Patrick's Pastoral Hall
Book Now. For more details contact 02892 605806/07927 970847
Email: atlascentre@hotmail.com     Facebook: atlas.lisburn
Yoga For All
Thursday 7 pm
Class suitable for all levels regardless of age, fitness or experience.
For more details or to book  place, contact Rosaleen on 077 8700 7641
Fully qualified with YTTC and Yoga Alliance
Deirdre's Introduction to Yoga
For details of classes available, please contact Deirdre on 079 0045 4312.
Gladiators Fencing Club
Thurs 6 pm – 8 pm
For details contact Alison 079 1702 8074
Forever Young
Thurs 11 am – 1 pm (Sept – Jun)
Forever young is a cross community event which provides friendship and companionship for ladies through a variety of activities including dance, exercise, lunches, outings, film days, bingo, bus trips and much more. For more information contact Sinead Fox 078 4697 1701
Eileen Depo School of Irish Dancing
Tues – Times as below
Junior Ceili at 4 pm
Adult Ceili at 8 pm to 9.30 pm
Come along, bring a friend, new members welcome
 For further details contact Eileen Depo T.C.R.G/ADCRG.
Tel: 028 9260 7177  Mob: 077 3092 5365
Drama Class
Sat 10 am – 11.30 am
For further information contact Kate Phillips 079 5516 7269
Dates for your diary
Abba Sensations.
In St Patrick's Pastoral Centre
Saturday 15 February 2020. 8 pm to late
Price £12. BYO
NI Blood Transfusion Service
Blood Donation Sessions are held in St Patrick's Pastoral Centre approximately every 6 weeks (Dates available from the Centre Office). Sessions run from 1.30 pm to 4 pm and 5.15 pm to 8 pm .
In order to maintain the vital supply of blood to our hospitals, the NI Blood Transfusion service needs the support not only of existing donors but also new donors.
LISBURN – A History of the Catholic Community of the Parish of Blaris
This is a history of the parish and indeed of Lisburn that has never before been documented. Written in diary form it chronicles political and other events over four-hundred plus years and how they affected the Catholic community of Lisburn.
Copies are available at the Pastoral Centre at the reduced price of £10 for parishioners or at Waterstones, Bow Street, Lisburn. It will also be available at Amazon.co.uk.
Bookings – Pastoral Centre
Bookings/availability of pastoral centre, etc. please contact
Damian French, Centre Manager on 028 9260 7110. Thank you.